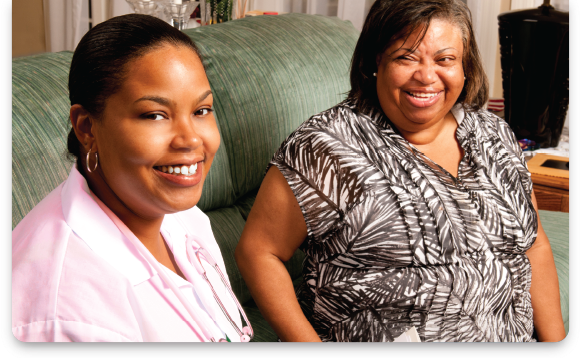 Our Registered Nurses and CHHAs provide a wide array of services that can help you remain in the comfort of familiar surroundings. These services include:
Follows care plan as set forth by Registered Nurse Supervisor
Prepares and serves meals according to client's dietary needs and assists clients with feeding if so needed
Provides a safe environment for the client
Assists client with ambulation and with transfers from bed to chair or wheelchair.  (Registered Nurse Supervisor will assess
transfers for both client and employee safety)
Remind client to take medications
Helps with client's personal grooming including care of hair, teeth and mouth, dressing, shaving and nail care
Provides or assists with full or partial bath in the tub/shower or the bed.
Living in your own home in your later years should be an option that all seniors can consider. Unfortunately, as we become susceptible to the limitations of aging, activities that were once easy, enjoyable, and necessary become difficult, if not impossible.   When the activities of daily living become difficult or overwhelming, you need someone to help out.
At Home Companions can provide the ideal solution for you or your loved ones who want to maintain their independence and dignity by continuing to live in the comfort of their own home. Our caregivers can make life easier by performing many of the tasks which have become difficult.
At Home Companions provides service in Northern NJ, primarily in Bergen, Passaic and Essex County. We can provide services in a variety of locations, including home, assisted living, senior residence, rehabilitation or nursing home facilities. Options available include part-time or full-time hourly care as well as 24 hour live-in care.
Don't see the service you need?
Give us a call and we'll do the best we can to meet your requirements. Make the call that can improve your life or the life of a loved one. Contact At Home Companions today at 201-525-0607 or e-mail us to inquire about our unique services, dedicated companions, and affordable rates.