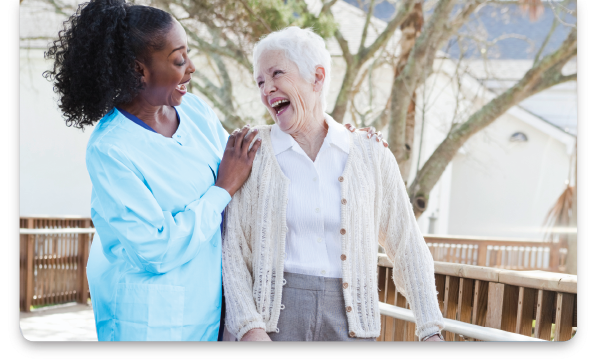 Living in your own home in your later years should be an option that all seniors can consider. Unfortunately, as we become susceptible to the limitations of aging, activities that were once easy, enjoyable, and necessary become difficult, if not impossible.   When the activities of daily living become difficult or overwhelming, you need someone to help out.
At Home Companions can provide the ideal solution for you or your loved ones who want to maintain their independence and dignity by continuing to live in the comfort of their own home. Our caregivers can make life easier by performing many of the tasks which have become difficult.
At Home Companions provides service in Northern NJ, primarily in Bergen, Passaic and Essex County. We can provide services in a variety of locations, including home, assisted living, senior residence, rehabilitation or nursing home facilities. Options available include part-time or full-time hourly care as well as 24 hour live-in care.
Our caregivers provide a wide array of services that can help you remain in the comfort of familiar surroundings. These services include:
Driving and/or accompanying you to doctor's or other appointments
Shopping and performing other household errands
Reminding you to take medications and calling to renew prescriptions as needed
Providing needed respite for family caregivers
Preparing and serving meals according to dietary needs and preferences
Supervising ambulation and helping to prevent falls
Taking care of personal laundry and bed linens
Making and changing the bed
Light housekeeping including cleaning the bathroom and kitchen after use
Helping with correspondence
Providing socialization, friendship and support
Encouraging and accompanying on activities
Don't see the service you need?
Give us a call and we'll do the best we can to meet your requirements. Make the call that can improve your life or the life of a loved one. Contact At Home Companions today at 201-525-0607 or e-mail us to inquire about our unique services, dedicated companions, and affordable rates.