Depression, or major depressive disorder, is a tricky beast. Although more attention has been given to it in recent years, there is still quite a stigma for people who suffer from depression or any mental illness. Unfortunately, as we age, the prevalence of depression proportionately rises. Many people, falsely, believe that depression is simply sadness or grief expressed by someone who needs to deal with their issues, to "get over it," to "move on." However, this is not the case. Depression is a physical disorder of the brain, that if not treated, can become a life-threatening illness. Advanced age, changes in the brain, disease, decreased mobility, loss of loved ones, change in nourishment, and social isolation can all contribute to depression rearing its ugly head and causing an unsafe change in your loved one. Fortunately, At Home Companions is here to help your suffering loved one with compassionate home health care. Here are just a few ways that our caregivers can help fight late-life depression.
Meeting Basic Needs
Each of us has basic needs for survival including nourishment, toileting, and stimulation. If we take a look at Maslow's hierarchy of needs, we can plainly see that basic human needs extend beyond a full belly and a clean brief, but includes feeling safe, loved, and worthy. In-home companions help fill the gaps that may be missing for someone with decreased mobility who lives alone or an aging family member who feels like they are a burden on their family caregivers. Having basic physiological needs met in addition to feeling safe and cared for can help decrease negative feelings and improve well-being which helps fend off depression.

Understanding the Disease Process and Effect of Disease
Of course, if a hug cured depression, we would have already eradicated it from the world! Unfortunately, we know that just isn't the case. Depression is a complex disease that can accompany a host of other medical or psychological disease. The medical team that is a piece of an interdisciplinary care team is well versed in the effects of medical disease and how disease process can change a person and trigger depression. The home health medical team helps to develop a plan to manage and treat all diseases, holistically, to ensure the best possible outcome for the patient and to prevent complications or opportunistic diseases, such as pneumonia and depression. We can identify and mitigate issues before they require hospitalization and we get to know our clients so or caregivers easily identify even subtle changes.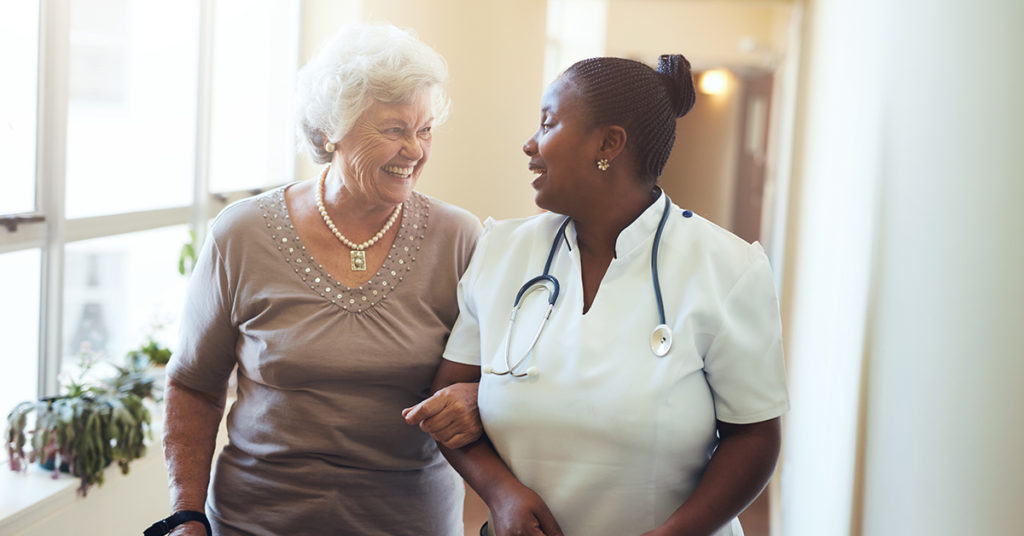 Combat Caregiver Fatigue and Depression
When family members are the caregivers for their elderly loved ones, in addition to working and maintaining their own families, it can cause caregiver fatigue which can lead to depression in the caregiver! While stress and some periods of grief or feeling down are normal and everyone has a bad day or two, when the sadness begins to manifest as irritability, exhaustion, and lack of compassion, that can indicate a much bigger issue. Fortunately, home health companions can help relieve some of the stress of caring for your loved one to give you both a break.
Because some of the best ways to ward off depression are exercise, a healthy diet, and positive support of loved ones may not be options for the patient facing new immobility caused by a chronic disease or injury coupled with the loss of a spouse, late-life depression is a serious risk to our elderly population. Don't deny or ignore the warning signs as this can allow depression to escalate to a life-threatening illness. Instead, seek the helping hands of At Home Companions. If you need in-home care in Bergen County, we are your premier resource, call for your consultation now!