Navigating the healthcare system can be confusing and frustrating. Knowing your options before you need to use them can help reduce the stress and anxiety that comes along with a hospital stay. If you, or your loved one, experience a hospital stay for an injury or illness, or due to deteriorating health related to chronic disease or aging, you will likely require some form of follow-up to get back to pre-hospital condition. Here, we will discuss your options for post-acute senior care during your recovery period, and the benefits of each.
Post-Acute Recovery
When you are searching for post-acute senior care recovery options, there are a few things to consider:
What are your recovery goals and expectations?
What was your pre-hospitalization independence level?
Do you need therapies — and how intense?
Do you have an IV or a PICC line that you require regular drug therapy through?
How independent are you — can you complete dressing, bathing, toileting, and general activities of daily living (ADL)?
Is your family and your home able to accommodate special recovery needs?
What does your insurance cover, and how expensive are the options should you pay out of pocket?

Extend Your Hospital Stay
Of all the recovery options, extending your hospital stay is the least likely of all the options. Depending on your specific situation and needs, you may be able to negotiate an additional day or two, but most insurance policies, including Medicare, will not pay for hospital expenses once acute care needs have been met. If your diagnosis and treatment plan warrant additional acute care, you may be able to extend your hospital stay. If you are concerned about whether your stay will be covered, you can discuss options with the hospital's financial coordinator, your case manager, or call your insurance provider directly.
In-Patient Rehabilitation/ Skilled-Nursing Facility
To address all of your physical, occupational, and speech therapy needs, in addition to medical and personal care needs, stand-alone in-patient rehabilitation and skilled nursing facilities (SNF) are recovery options. These facilities offer the most intense therapy options, where patients generally have two to three sessions daily. Rehabs and SNFs tailor care plans to patients' specific needs based on diagnosis, prognosis, and current condition. Rehabs and SNFs are ideal to recover from events, such as stroke, total hip replacement, or exacerbation of congestive heart failure (CHF) or chronic obstructive pulmonary disease (COPD), especially if you have any comorbidities that will complicate the healing process. Most patients will stay in a rehab or SNF anywhere from 10 days to six weeks, based on condition, goals, and insurance coverage.
In-Home Care
In-home care is an option that allows patients to return home for the recovery process. In-home care ranges from basic companionship to full-scale medical support. In-home care can consist of physical, occupational, or speech therapy, wound care and IV therapy, personal care, transportation services, housekeeping, meal preparation, and total ADL care. In-home care options are the least restrictive to patients because they can come and go as they are able and sleep in their own beds. In-home care can also be used intermittently as respite care for family caretakers.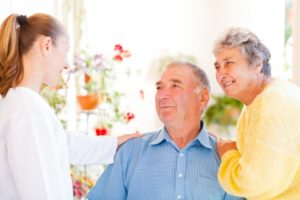 Assisted Living
Assisted living facilities (ALF) are long-term living communities that offer minimal assistance with medical or personal care. ALFs are designed to be an in-between for SNFs and long-term care facilities. Assisted living facilities offer residents the privacy and independence of apartment living, but in a community where they have access to basic medical care and help with some ADLs as needed. To live in an ALF, a resident should be mostly independent, but requires assistance with some tasks or is not safe to live by themselves at home. ALFs offer social and therapy activities, as well as cafeteria or restaurant-style eating options for residents. Many residents enjoy the simple, social lifestyle that ALFs offer.
Long-Term Care
Long term care centers (LTC), also referred to as nursing homes, offer the most extensive assistance, medically and with ADLs. The typical LTC resident requires extensive or total assistance with feeding, toileting, personal hygiene, and medication administration. LTC centers are designed for those who are mentally or physically limited by aging or disease, such as stroke-induced paralysis or degenerative Alzheimer's disease.
There is no definitive answer as to which option is best for you; it will depend on your specific situation and needs. Before you make a decision, take some time to do some self-reflecting and discuss the options with family, caretakers, and your insurance company. One study suggests that those who chose in-home care as a recovery option showed increased mobility, more independence, less incontinence, fewer pressure ulcers, and less inpatient hospital admissions. At At Home Companions, we believe that you deserve quality care in the comfort of your own home. If you are looking for quality in-home care in Bergen County, contact us at At Home Companions.